Intro
Station PC is equipped with EMMC, which is used to store the core operating system and application programs. In this chapter, we will introduce how to install the operating system firmware to EMMC via TF card.
 
Note: As the default storage on the EMMC is the main operating system, the operation in this chapter has certain risks resulting in failure to boot, so please read carefully and strictly follow the tutorial to avoid accidents.
 
Kit
PC with Windows system X1
TF card (over 8GB but less than 32GB) X1 (C10 or above)
TF card reader X1
Installation
Step 1: Download EMMC firmware

Download EMMC firmware corresponding to your device in Downloads
Step 2: Flash firmware.

Insert the TF card into the card reader, and insert the card reader into the USB port of the PC.
Open SD_Firmware_Tool, select the inserted removable drive.
Tick "Upgrade Firmware".
Click "Firmware" and select the downloaded image. (If it is a zip package of other format, it needs to be upzipped to an img file)
Click "Create".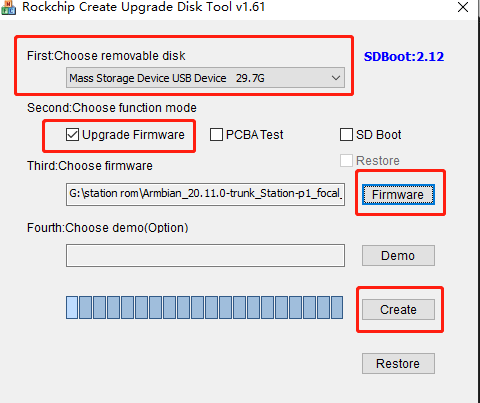 When the window shown below pops up, select "Yes".

When the window shown below pops up, the TF card flashing is finished.

Step 3: Run the new system.

Remove the card reader, take out the TF card and insert it into the slot of the Station PC, power on the Station PC.

"Installing system update" progress bar will appear and after loading, the flashing is finished.


Remove the TF card, and the Station PC will be automatically rebooted and run the new system.

 

Video

Check out the video to finish flashing.
开机教程